Bands & Demos
Astrid & Co. (since 2020)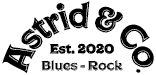 When brother Dick and guitar player Doc H. left the Bowling Bones (B.Bones, 1998-2022, see below), the style, the repertoire and the name of the band changed to Astrid & Co. With multiple singers, two guitars, keyboards, bass, and drums, this band plays a mix of Rock and Bluesrock music.
Website: www.astridco.de
Demos: Bad Woman Blues Lass uns ein Wunder sein Nutbush City Limits
Astrid (since 2014)
OMG, he's plays guitar again. After decades of guitar silence, I decided to accompany a wonderful voice with my guitar. Astrid was the right choice and led even to playing together in a bigger ensemble (Astrid & Co. with me on drums, see above).
Website: duo.astridco.de
Demos: Siehe ASTRID Demo Page
St. Andgas (since 2006)

Since 2007, ST.ANDGAS lends traditional (mainly German) Christmas songs the dignity they have been refused for centuries. Some of the melodies are easily recognized, while others have been turned into different but equally well-suited sequences. The beats and tempo of all Christmas songs have been adapted to the new, very expressive style. To emphasise nastiness, the St. Andgas riff-raff have written some new Christmas lyrics themselves. It is not by coincidence that the music applied to those sounds like Deep Purple, Rory Gallagher, ZZ Top, Pink Floyd or even Patrick Hernandez. A crazy mix from Blues to Heavy Metal with traces of Disco and Schlager.
Website: standgas.zwergfell.de
Demos: Video-Links
The Long Run (2018-2019)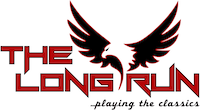 Six musicians with very different backgrounds met to play Rock and Country Rock with focus on extraordinary vocal arrangements. The repertoire included songs from The Eagles, The Doobie Brothers, Little River Band, and others. After two wonderful years during which the guys worked hard and learned a lot, the project unfortunately came to an end.
Bowling Bones (1998 to 2019)
Six musicians, claiming to be sextuplets, started off as a Blues cover band, but then decided to write their own music and add German lyrics with a good sense of humour to it. In 2016 »Lady Bone« (Astrid) joined the band as additional singer.
Demo: Quizkönig (Youtube)
Hydrazine (2001 to 2012)
English-German band that popped up as a kind of house-band during events of a world-class satellite operator.
Demo: Cold Rain
Nightcream (2002 to 2004)
Pop music with accordeon, accoustic guitar, electric bass, and drums. The band arranged songs from The Corrs, Carole King, Melissa Etheridge, Eric Clapton, Billy Joel, and others, but also had a few self-written songs in the repertoire. Unfortunately the band never recorded anything and never got filmed when on stage. That is a pity because the band was quite unique, popular and played very well.
Frame in Green (1998 to 2000)
Bigband with rather modern repertoire, with big horns and musically open minded musicians in the rhythm section.
No Limit (1996 to 2000)
One of the many popular Dancing Bands. Internal nickname for the band was »The Flexibles«, expressing the wide spectrum of music and the flexibility to support events of all kinds.
Demos: Just a Gigolo Copacabana Red Roses for a blue lady
Shake's Beer (1995 to 1998)
Powerful Hardrock cover band playing music originally performed by Deep Purple, Joe Satriani, Pat Travers, Bon Jovi, Mr. Big, John Cougar Mellencamp, Journey, David Lee Roth and others
Demos: Summer Song Rock'n Roll Suzi Highway Star
Backbeat (2010 to 2013)
Rock-Coverband trying to play songs from masters of Blues and Rock with not too much focus on dynamics or tempo.
Demo: Zusammenschnitt aus der Karlsmühle
Gospel-Voices (2005 to 2008
Trio accompanying a Gospel choir with keyboard/piano, bass, and drums. The fact that I was playing with two classical conductors made it an interesting learning experience. (Manfred and Ulli know so much and have excellent ears.)
Aragon (2004 to 2006)
Rock-Coverband with focus on mainstream repertoire and 1:1 cover.
Magic (1983 to 1996)
One of the many Dance & Entertainment bands of the 1980s.
Welcome (1982 to 1983)
My first band as s drummer, my first singing experience. A nice crowd of young boys, most of which had met each other in school.
Six O'Clock (1981 to 1982)
Trio playing dancing music with keyboard (foot bass included), guitar (me) and drums.
Domingos (1979 to 1981)
My first band, at that time as a guitar player. We had two guitars, a singing drummer, and a female singer; no bass!